Hello you lovers and friends!
---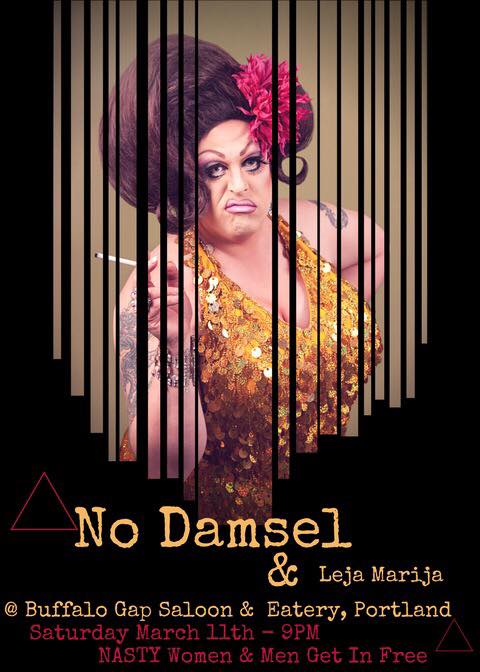 We are so excited and pleased to bring you good news from the land of No Damsel! 
We have a show coming up at the beginning of next month - March 11th at the Buffalo Gap Saloon and Eatery. There is no cover charge, we start at 9pm, and we're playing well into the evening. 
This is especially exciting because it is our very first show with our new band name. After we spent endless hours perfecting our recordings and re-branding our image, we are finally ready to bring you
seven new songs
(!) for you to get down to, starting with our latest (and arguably most political) release,
Nasty Women,
which can now be purchased through
iTunes
 and 
Amazon
, and heard on Spotify and GooglePlay.
When writing this important piece of legislature...ahem...songwriting, Miranda found inspiration in our current tempestuous political climate, and decided it was important to remind the powers that be that the future is #female. With themes that revolve around various movements by the government to suppress us in different ways (women's reproductive rights/immigration rights/#BLM and oppression of POC's), No Damsel wants to point out that the revolution is imminent, and we will not be held down. "Every port has mouths, revolutions North and South, who will be your holy sinful end of days..."
So please come join us for our big live show, where our good friend
Leja Marija
 will be opening for us with her incredible, acoustic, bluegrass-y sound, followed by some acoustic
Miranda
love, and then the rocking sounds of our newly revamped musical conquest, No Damsel.
Looking forward to seeing you all there!!
Love and music,
No Damsel
"You can't build a wall, those rising fast will faster fall. Beware them Nasty Women who'll grab you back"