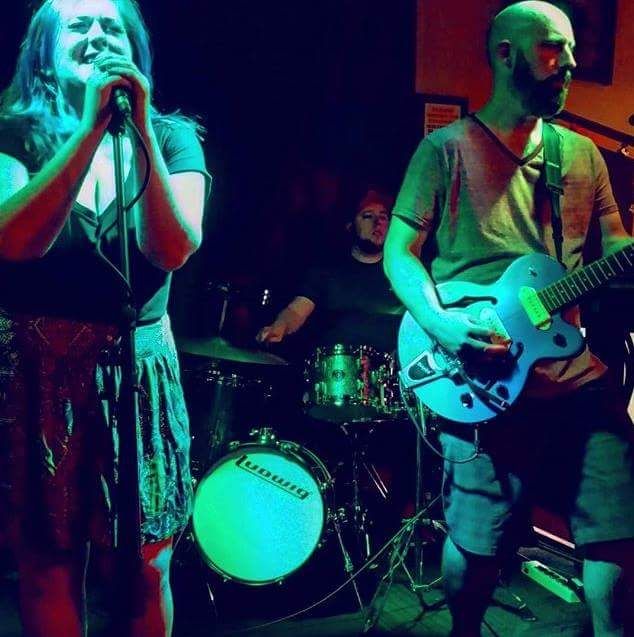 Can you believe it has been over a year since our last blog post? Well, you can blame Miranda for that one. 
We have been working so hard lately; collaborating on new material, booking and playing shows, and practice practice practicing! 2018 really seems to be the year that No Damsel cultivates a new style and paves their path towards a legacy of some kind. With all the turmoil happening in the news every single day, we feel it is important that we continue to promote female empowerment and equal rights for all people. We want to contribute to this cause by creating meaningful and inspirational music for all of you. We have had the great privilege of playing an average of two shows a month for the last few months, and the honor of bringing all of our lovely fans a few new tunes for them to get down to, all the while promoting our message of equality.
If you've come to recent shows, you've probably noticed that our lead singer puts down her guitar a little more often lately. We have been utilizing some new approaches towards writing and producing music, and she has found that sometimes it's easier to write without the safety net of her guitar. This has created a more balanced effort towards creating new music where our guitarist, Jack, gets to flex his incredible musical-theory-muscle in order to come up with a style surrounding the bare bones of creativity trapped inside Miranda's head. With our bassist David's excellent rhythms, there suddenly blooms a song where before lay only a shimmer of an idea. Once we have the concept structured a little better, our drummer Bryan puts the icing on the proverbial percussion cake, rounding us off nicely with a few drums and cymbals. 
Using this method, we have brought you a few new gems like "Leave the Rest for Me", a song inspired solely by a lyric that our singer came up with in her sleep, which grew into a rhythmic and bouncy little tune, inspired by the sounds of bands such as The Black Keys and the Yeah Yeah Yeah's. 
Another song to come forth recently is "Fairly Tough", a catchy little ditty that revolves around a hook that will be stuck in your head for days. "I cut my hair and I cut you off | I'm barely there, but I'm fairly tough", "Voices in your head can't quiet me | I doubt I really need your blue eyes to see", and some other choice lyrics, are the basis for this empowering song about not needing another person to validate your awesomeness...
And last, but certainly not least, we have "Gimme Some Love", a truly inspiring song that was the ultimate collaboration of styles from each member of the band individually. There is a jazzy feel to this song, with a hint of (and if you know Miranda at all, this should come as no surprise) Broadway. A rhythmic drum breakdown by Bryan and David in the middle of the song gives way to a finale finish that would make even Velma Kelly envious. "Here's to love | Here's to coming undone, and breaking apart for love | I have a feeling that everyone's hiding the secret and marveling in the cacophony of it all | Gimme some love..." 
Here's a video of us at one of our shows in May, premiering some of these new sounds at the Lombard Pub
We miss you guys and can't wait to have you for our next show on October 6th at one of our favorite venues, The Buffalo Gap!
Stay tuned for more updates on that show and new tunes coming your way. We have some fun covers we are working on, as well as a couple of new originals. We look forward to bringing you all of this tasty new material, and seeing you on the 6th!
Love and peace and all that,
ND <3