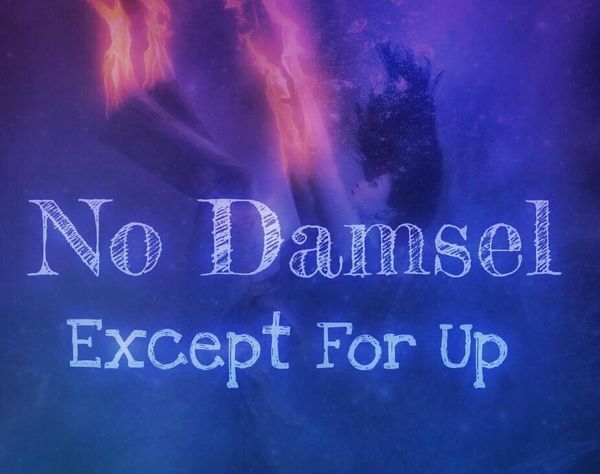 Greetings all you earthly and heavenly beings,
This is Miranda comin' atcha with some news about a
NEW SONG
 release! We are proud to bring you "Except for Up", a new single release from No Damsel.
A little about this piece:
This song was written in a dream state...in the midst of an inevitable, but yet unspoken, breakup. The lyrics reflect this dissonant state of mind in which you know it's ending, but you don't yet have the guts to express the words to end it.
"Red hot coals...in my throat...have been keeping me from telling you...that I'm aware that you don't care...and all my blood, is boiling to..." 
Our guitarist, Jack Lazelle, captured the vibe of the song perfectly with his decision to use a slide guitar as the lead. It pays homage to The Beach Boys' "In My Room" with its haunting melody, wailing up and down the neck of the guitar under that little metal slide.
The song initially remained unfinished when it was first written, as the last verse had yet to be realized. Once the relationship was over, the final words came to me quickly and succinctly:
"I don't know you, you don't know me...our first kiss went so differently...not like the last one, that was a fast one, like the one you pulled on me..."
We feel like this song is one that is familiar to everyone - a theme that has come to all of us at one time or another. Maybe you're facing this dilemma as you are reading this, so we are here to tell you to be
strong
, kiddies. Remember that, even when you feel like the lowest of the low, and your throat is burning with words unsaid, there is nowhere to go
except for up
. So cool down, have a listen to this track, and take in the sleepy sounds of No Damsel as we calm your soul and ears. You can download it on itunes 
here
 or on amazon music 
here
, or feel free to listen on Google Play and Spotify.
And remember we have a 
live show
 coming up soon! It's fast approaching and we couldn't be more excited! Look for us at the 
Buffalo Gap
 saloon on March 11th - 9pm (it's free, so bring everyone you've ever met). We'll be singing with our good friend 
Leja Marija
, and it's sure to be a super fun evening full of new songs!!!
Thanks for reading, and remember we love all of you guys. 
Peace and love,
No Damsel